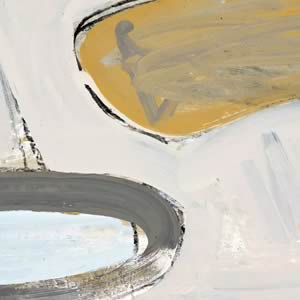 Rise Art Interview with Day Bowman: Treading Between Abstraction and Figuration
"Scale is important to me. I love working large so that my whole body is gesturally creating the marks and slashes and brushstrokes."
Day Bowman's paintings recreate the coastal landscape of her childhood home; capturing the tide, the peppery grey sand and the sunlight as it beams down and laps up the sea. With a style which treads the tangential boundary between abstraction and figuration, Day creates complex and inquisitive works full of movement, colour and wonder.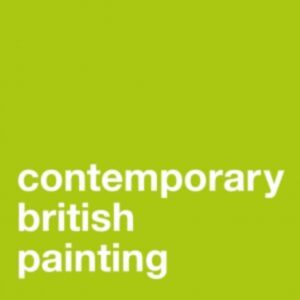 Read the Contemporary British Painting Artist of the Month interview with me here
Growing up in a holiday destination, seaside town it is not surprising that much of Day's work has referenced the sea, the beach and littoral. In this new series of paintings the canvases echo the marks, lines and shapes that were made in the wet, grey sand of her home town beach: thus the canvas becomes the beach that acted as the canvas of her child hood.
In her current body of work, Seaside Citadels, she has been reflecting on how Britain sees itself: a nation apart or part of a global community? On visiting a number of south coast seaside towns last summer she was struck by the shapes of fortress constructions from castles to Martello Towers and the abandoned pill boxes of WW2, noting that if they hadn't been saved by English Heritage or converted into smart holiday homes many had fallen into disrepair and ruin. It is these shapes and lines of such fortifications that she has employed in these paintings; echoing, she believes, the small sandcastles she and her brother patted out on the wet sands of childhood beach holidays.
In 2012 Day was commissioned to produce a series of giant hoardings for Weymouth Railway Station, host town to the Olympic Sailing and Paralympic Sailing Events. In 2013 she was one of four artists to represent the U.K. at Nord Art Germany and in 2017/18 her work toured to four museum galleries in China organised by Contemporary British Painting. More recently Bowman has curated a UK wide tour of Edgelands 2016/17 and Getting Away! 2018 exhibited at Arthouse1 Bermondsey and Quay Arts IOW.
Her work has collected numerous awards including: First Prize for Anima Mundi Painting Prize shown at Venice Biennale (2019); First Prize for Bath Arts Open (2019); First Prize in the inaugural Wales Contemporary (2019) Winsor & Newton Prize in the Royal Institute of Painters in Watercolours (2020); long-listed for Jackson Painting Prize (2022).
In June 2021 Day staged a solo exhibition of work Seaside Citadels at Bermondsey Project Space London.
Invited to be part of KCAW (Kensington and Chelsea Art Week) 2022 she co-curated Two Painters and a Sculptor at the newly established Hansard Studio in Kensington West London.
Her work is in numerous private and public collections worldwide including: Hilton Hotel Group, British Dental Association; Dorset County Hospital; St. Vincent and the Grenadines Art Collection; Yantai Art Museum China and the Priseman Seabrook Collection.
Links